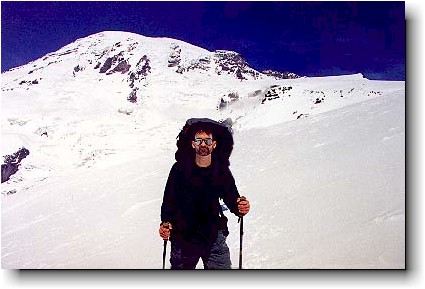 Ron's Rainier Quest
This page is designed for the beginning climber
or any climber seeking information about Mount Rainier

So... You want to know what it takes to climb the country's most famous mountain...
Well, here's some basic information to get you started.
General Information
Prepare for the Climb
Equipment
Pre-Trip Journal
Trip Report
Photo Gallery
Clickable Map
Links

---
Mount Rainier is the most glaciated volcanic peak in the continental United States. Rising to 14,411 feet, it is the 5th highest mountain in the lower 48 states (however, only 83 feet separate it and the highest) and the largest and most dangerous volcano in the country. Each year around 10,000 people try to climb it, a little more than half of them succeed. (I hope to join that group) The bodies of at least a dozen climbers remain sealed in glacial ice (I hope not to join that group!) as well as the remains of 32 Marines whose plane crashed into the mountain in 1946. It's massive ice flows and violent winds are so similar to the Himalayas, that the first American climbers to summit Mount Everest trained on Rainier.

The first climbers to successfully reach the true summit were Philemon Beecher Van Trump and Hazard Stevens in 1870. They were guided along the lower flanks of the mountain by a Yakama Indian named Sluiskin. The night before their summit attempt, he tried to dissuade them from their plans by telling of his grandfather climbing almost to the summit and seeing a fiery lake with a demon coming to destroy him, he fled down the mountain and barely escaped with his life. Sluiskin was so certain of their demise that, before they went, he demanded they write a note to the authorities absolving him of any responsibility.

Today the mountain experiences about 130 earthquakes a year and is closely monitored by four seismometers located at various points. The true danger comes not from the possibility of an eruption, but from the fact that the mountain could collapse at any moment. Since the area around Rainier is so populated, that event would be catastrophic.

The summit crater is filled with ice, but there is a system of ice caves and tunnels around the edges kept open by steam venting from beneath. In early days, many climbers took refuge from sudden storms in these caves.

---
Mount Rainier is considered the longest endurance climb in the lower 48 states. You must be physically fit. It is imperative to undertake a rigorous conditioning program to maximize your lung and leg strength. You should start training at least two months prior to departure, with the best training being extended hiking up and down hills with a 40-50 lb backpack. If there are no trails nearby, climb stairs or stadium steps. It is also a good idea to cross-train by running, biking, stair climbing or swimming. Keep in mind, your level of enjoyment, success and safety are all directly affected by your fitness. I won't go into any of the medical problems associated with high altitude here, but if you are considering a trip like this, be sure and learn about AMS (Acute Mountain Sickness), HAPE (High Altitude Pulmonary Edema) and HACE (High Altitude Cerebral Edema). For a web site containing such information, see "Above the Trees Wilderness Page" in links below.
So what's the big deal with this "thin air" thing anyway? We live at the bottom of an ocean of air. (As Torricelli put it in 1643 when he invented the mercury barometer.) Air has weight, and being composed of gases, is therefore compressible. The air at sea level is compressed by cubic miles of air above it. The higher the altitude, the less weight above to compress the air. The atmospheric pressure at the summit of Mount Rainier is 40 percent less than at sea level. Most of the air collects at the bottom of the troposphere, when you stand atop Rainier, almost half the weight of the world's air floats beneath you. So, at 14,000 feet the air has expanded and now takes up 40 percent more space, but your lungs remain the same size. Now with every breath you take in 40 percent less air, and 40 percent less oxygen.

---
Having the proper equipment is very important to the success and enjoyment of your trip. During the summer, temperatures can be below 0 degrees anytime, with the averages being below freezing at night and in the 50's during the day. Winter conditions reach extremes of cold, snow and wind with temperatures at night near zero and ranging from the teens to thirties during the day. Wind is a major factor in a summit attempt. Also, you should be prepared for plenty of sun and protect yourself with sunscreen and clothing. Following is a general gear list, and is not intended to be all-inclusive, your personal needs may vary. Group gear (Shelter, Food/Kitchen/Water Source, Main Climbing Rope and Protection) will need to be decided within your group, or most likely provided by your guide service if you're using one.

CLIMBING EQUIPMENT
Helmet
Seat Harness
Climbing Boots (Double plastic boots)
Crampons (12 point rigid or hinged
Ice Axe
Trekking Poles (For hike up to base camp)
Backpack (At least 5500 cu for internal and 4500 cu for external frame)
Carabiners
Gaiters (Full length)
Sleeping Bag (Rated from 0 to 15 degrees F)
(Many of these items are rentable at the Paradise Guide House)
CLOTHING
Parka (Synthetic or down - large enough to fit fleece underneath)
Base Layer-Top and Bottom (Long underwear: synthetic, No Cotton!)
Insulation-Wool or fleece sweater or jacket (100 or 200 weight), Thicker fleece jacket (200-300 weight), Wool or fleece pants
Shell-Waterproof, breathable jacket (with hood), Waterproof, breathable pants (preferably with full length zipper)
Balaclava or warm hat and neck gaiter
Baseball Cap or sun hat
Thin liner gloves
Insulated mittens or gloves: fleece or wool
Waterproof shell overmitts
Socks
Camp Shoes (Running shoes or down booties)
ACCESSORIES
Prusik Slings
Map and Compass
Knife
Sunglasses (Very dark, glacier glasses work best)
Ski Goggles
Headlamp (Should have a strong beam, bring spare bulb and batteries)
Sunscreen and Lip Balm (SPF 15 minimum)
Water Bottles
Personal First Aid Kit
Personal Hygene Items
(The park service requires you to pack out human waste and toilet paper via their "blue-bag" system. If you're staying at Camp Muir, there is an outhouse for your use.)
OPTIONAL ITEMS
Snack Food/Energy Snacks
Hiking Shorts
Earplugs
Book, Journal
Camera
Backpack Cover or Large Plastic Bags
A Few Thoughts About Gear
Always test your layers before a trip. Your outer layer should fit easily over the inside ones without binding or bunching up.

NO COTTON! Cotton drains body heat when wet and is not an acceptable fabric for climbing, wear wool or synthetic clothing.

A good way to minimize the risk of blisters is to wear a thin liner sock under your regular hiking socks. The liner should be made of a non-absorbent, wicking material - no cotton. Test your sock combination before your trip.

Plastic bags are good for separating wet clothing and keeping dry clothing dry.

Earplugs might sound trivial but you will be glad you have them if you have a snoring neighbor or the wind is blowing at 60 mph!


---
I took the RMI 5-day Mountaineering Seminar which bases out of Camp Muir.
For information about that specifically, see my Pre-Trip Journal, Trip Report and Photo Gallery.
Choose your view on a "clickable" Map showing our approximate route.
---
You need to know more! Learn it from reading these books:
Mountaineering: The Freedom of the Hills (The Mountaineers)
The Challenge of Rainier (Dee Molenaar)
The Measure of a Mountain (Bruce Barcott)
Climbing Mt Rainier-The Essential Guide (Beckley and Van Steen)
---
---
General Information Prepare for the Climb Equipment Pre-Trip Journal Trip Report Links Return to Top
The font "Tahoma" is used throughout most of this page. "Tahoma" was one of the Pacific Northwest Indian names for Rainier.
Of course, if you don't have that font installed on your machine - never mind.

Home Page Photo Gallery Trip Reports Rockets Quotes
You are mountaineer number
to visit this page.